Do it in DAP!
The TracFone Dealer Portal (DAP) was built with your TSP to bring you, the TracFone Brands Retailer, the best tools and analytics to run your wireless business. Everything you need to do during the course of a day of signups, activations, and more can be done through DAP. Looking for detailed plans comparison, dealer training, marketing materials to print, your rewards status, activations? You can find it all in TracFone Dealer Activation Portal (www.tfdap.com).
October Monthly Spiffs
Check out the new offers from TracFone for October 2022.
More Auto Refill

Now earn 10% airtime margin for each customer you enroll in auto refill!

11/1 – 11/30

$10 EXTRA Handset Rebate


All Simple Mobile and Tracfone branded handset activations receive an additional $10 handset rebate for every activation 11/1-11/30

More Auto-Refill

Get a $20 sign up bonus for each customer you enroll in Auto Refill! 11/1-11/30

All Verizon network brands & plans $30+,

$15 Month 1, $15 Month 3

11/1 – 11/30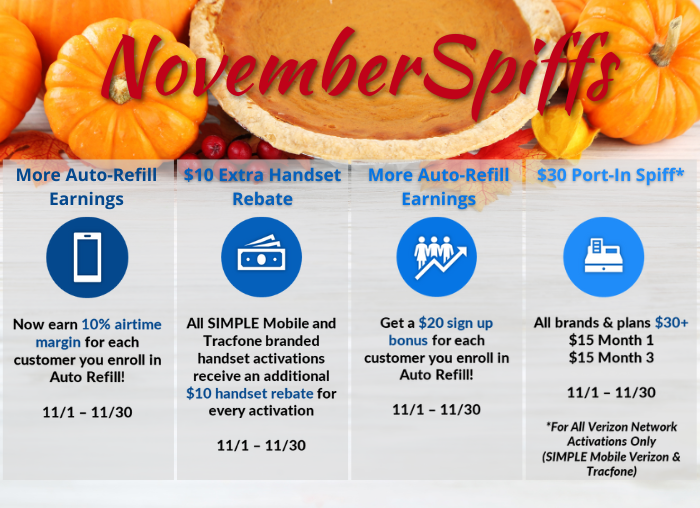 Need Help With Migration?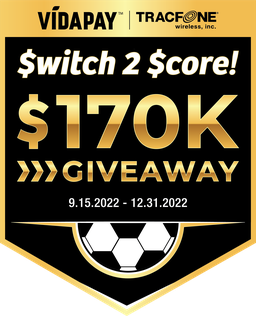 Don't Miss Your Chance to Win!
With every successful switch of TracFone customers over to the Verizon network while staying on the same brand and plan you will earn points. More points = more chances to be a winner of a weekly drawing and maybe even the Grand Prize of $25,000
How do you earn entries? Here's how:
Earn 1 entry by registering for the Switch 2 Score! $170k Giveaway

Earn 2 entries for ordering Net10 or Simple Mobile SIMs from Vidapay

Earn 15 entries for every switch from any TracFone brand on AT&T or T-Mobile service to the Verizon network

Earn 15 entries for enrolling any newly switch Verizon network customer to autopay

Earn 15 entries with any Secret Sale order (Mondays at 1pm ET)

Earn 50 entries every time you successfully switch 100 customers to Verizon network.
Check it out today and use your rewards to maximize your business.
Tracfone's Q4 Dealer Loyalty Program Challenge
TracFone Brand Plans & SIMs
Plans and features can change. Keep up to speed on what each brand is featuring, what benefits they've added for new and existing customers. Let your customers know about all the great value that their current plans are offering and encourage their renewals or offer a change in plan that better meets their needs.

Simple plans with carryover data. Choose among all four major networks.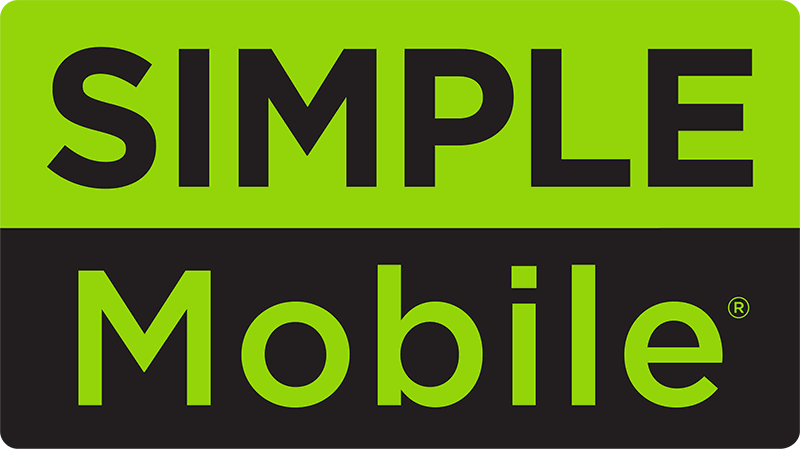 Latest in smartphone technology and outstanding coverage for an affordable price.
All learning resources in one place: how-to videos and other instructions.

Know which plans to sell this month,
what's expiring and what's new!
Jump to a full list of contacts for troubleshooting issues with TracFone or Cellucom.


Buy Unlocked Handsets, SIMs & Accessories
Need to find information about specific phone models and carrier specs? Try these. If you happen upon additional good resources you think could be shared here, please email us and let us know!
Great resource for finding phone models, specs and reviews on models.
Great resource for finding and checking specs on phone models along with current industry news focusing.
Vidapay:
If you are having issues with your VIDAPAY / TCETRA account, please contact TCETRA at:
Mon-Sat 9am to 12am EST, Sun 9am to 9pm EST. Phone: 1-877-956-2359, email: csr@tcetra.com
Commission/Activation/RMA support:

PORT ISSUES:
ALL CUSTOMER/SERVICE RELATED ISSUES:
Email: dealerescalations@tracfone.com
Phone:1-888-424-6344 Dial Code 56827

Cellucom Contact for TSP account status or credit limits:
For questions about your TSP account status, if it is not active or you are out of spending limit, please email us at tsp@cellucomgroup.com, or call us at 877-956-2355 ext. 2006.
Please note our office hours are Mon-Fri 9am-6pm EST. For questions or limit requests after hours, please email tsp@cellucomgroup.com.
All customer related technical issues including:
Unable to make/receive calls, SMS/MMS (Data),

Activation failure,

Redemption failure,

Multi-line accounts,

DAP errors during any of the technical transactions.
Port issues:
SPIFFs / Refunds / RTR inquiries:
TFDAP Portal issues:
Tips For Faster Help Via Email:
Always include the dealer's name, business name, and contact phone number.
Write the customer's phone, sim or serial number in the subject line.
For ILD issue, include the country they are trying to call, the phone number of the destination, and the error message. Please note, ILD roaming customers must make calls in the U.S. to register the feature before traveling.
Chat Features for instant help:
Use the Chat feature in DAP (bottom option on left side menu) to ask questions. This is a great resource! You must be logged in to access it.
Cellucomgroup.com also has a (new) chat feature. When available it will appear in the bottom right corner of your screen. Click on it to begin chat.